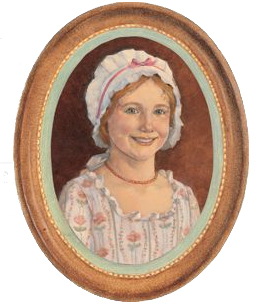 Age: 9
Gender: Female
Nationality: American
Time Era: 1774
Family:
Father: Edward Merriman
Mother: Martha Merriman
Sister[s]: Nan Merriman
Polly Merriman
Brother: William Merriman
Felicity is a nine-year-old girl growing up during the Revolutinary War in 1774. Felicity (nicknamed Lissie) is a spunky, brave, and independent-minded girl. She is very active for a girl her age in her era and is annoyed at her lack of freedom as a young girl and the ladylike things and personality that is expected of her. Felicity believes in fighting for what she wants and can be quite stubborn and headstrong at times; this gives her a strong connection to Benjamin Davidson. When she wants something, she goes for it, quite often without thinking about it. She sometimes wavers between brave and foolish and sets her heart on things often. When Felicity is angry, she's never afraid to speak her mind and stand up to bullies, as she did with Jiggy Nye. Felicity also isn't afraid to tease Annabelle, coming up with the name "Bananabelle". Felicity is good with coming up with names. She came up with Polly's, Posie's name, Penny's, and Patriot. Felicity learned to ride and make friends with horses at Grandfather's Plantation; this aids her in taming Penny, but is a hindrance when it gives her overconfidence in Felicity Takes a Dare. She is constantly fussed at for being not very ladylike. For the most part Felicity is a "tomboy" with a love for horses, nature, and the great outdoors. She is quite impatient—especially when it comes to things she finds dull and boring—and is often regarded as "flighty" and "thoughtless" by her mother and often chided for not finishing or tending to her domestic work properly. She shows disinterest for the most part in cooking, sewing, dance, and other then-feminine skills, though she does like working in her garden and playing her guitar, which was considered feminine then. Sewing especially bores her and she is generally sloppy in her work. Felicity loves horses more than anything, hence her affection for Penny that is carried throughout the series and her dedicated care towards her from the start. She eventually learns how to be more of a lady throughout the series with events such as dancing at a fancy dancing lesson designed as a ball, and learning how to serve tea; however, she is still quite active. Felicity enjoys working in her father's store, where she can imagine where all the items come from. She tends to act more like a fine lady at the store. Felicity enjoys making her best friend Elizabeth laugh. American Girl characterizes her as "spunky" and "spritely." Americangirlpublishing.com describes her as "independent", "loyal", and "spirited". American Girl e-card describes her as steadfast.
Doll: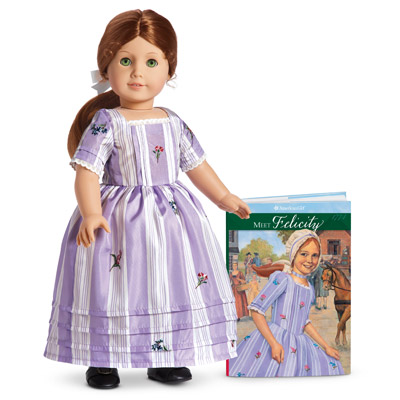 The Felicity Merriman doll was released in Fall 1991 and revamped in 2005. Felicity was officially archived on March 28, 2011.
Mini Doll:
This adorable 6.5 inch mini-doll comes with a mini 3 inch abridged version of the Meet Felicity book. Mini book is enclosed in the doll box.
Books:
Meet Felicity: Book 1
Meet Felicity Merriman, a spirited nine-year-old girl who lives in Williamsburg, Virginia, in 1774, just before the Revolutionary War. She's impatient with "sitting down kinds of things," like stitchery or writing. She'd rather ride horses! That's why Felicity is so excited to hear about a new horse in town. she falls in love with the copper-colored mare and names her Penny. But Penny is owned by a cruel man who beats his animals. When Penny's life is in danger, Felicity knows she must help.
Felicity Learns A Lesson: Book 2
Felicity is sent to Miss Manderly's house to learn to be a polite gentlewoman. She practices stitchery, dancing, penmanship, and the proper way to serve tea. Two sisters from England join the lessons, and one of them, Elizabeth, becomes Felicity's best friend. Learning to serve tea is great fun, until Felicity's father decides that the king's tax on tea is unfair. He refuses to sell tea in his store or to drink it at home. How can Felicity continue the tea lessons she loves and still be loyal to her father?
Felicity's Surprise: Book 3
Felicity is invited to a dancing lesson at the Governor's Palace, the most wonderful honor she can imagine. Mother promises to make a beautiful new gown for her. As the splendid event draws near, Mother becomes dreadfully ill. Felicity spends all her days caring for her, sadly accepting that there will be no new gown and no chance to go to the Palace. No chance, that is, until a glorious surprise reminds her that Christmastide is a time when hopes and dreams do come true.
Happy Birthday Felicity: Book 4
Spring brings Felicity's tenth birthday and a visit from Grandfather. He gives Felicity a precious gift--a guitar that had belonged to her grandmother. Felicity is so enchanted with the guitar that she disobeys her mother and takes it out of the house to show her friend Elizabeth. Her parents are angry when they learn what she's done. They refuse to believe a message Felicity has overheard that means danger for the colonists. Felicity risks her parents' anger again when she decides to alert the colonists herself!
Felicity Saves The Day: Book 5
Felicity loves summertime on Grand father's plantation. She can be outside all day—riding horses, playing with Nan and William, and exploring the woods. One day Felicity finds a secret note. It is from Ben, her father's apprentice, and it asks for her help. Ben has broken his apprenticeship agreement and is running away to join George Washington's army. Felicity begins a dangerous adventure when she goes to help Ben. She must use all her strength, courage, and wisdom to try to save the day.
Changes For Felicity: Book 6
For Felicity, 1776 starts off with good news. Her beloved horse, Penny, is going to have a foal! Felicity has one worry--Jiggy Nye. He has been cruel to Penny in the past. Will he be cruel to her again? Soon Felicity has more worries. Her family believes in independence for the colonies. But the family of Elizabeth, Felicity's best friend, believes in loyalty to the king. Suddenly, Elizabeth's father is jailed for being a Loyalist. Will Felicity and Elizabeth's friendship survive the many changes that both girls face?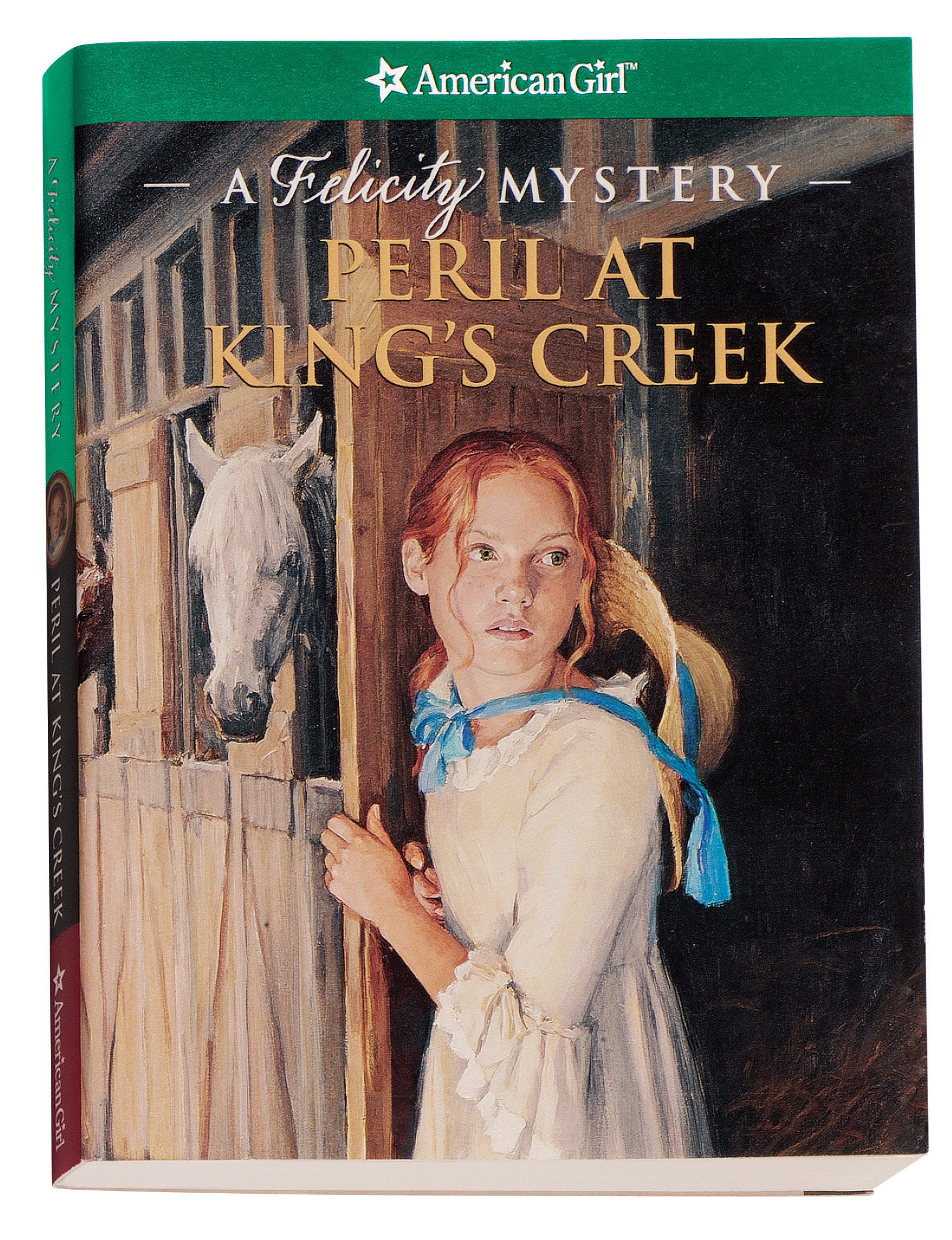 Peril At King's Creek: A Felicity Mystery
Felicity is spending the summer of 1776 at her family's Virginia plantation, King's Creek, where every day she rides her beloved horse Penny. Soon Felicity hears news that British soldiers are burning Patriot farms and stealing their animals. Then she finds evidence that makes her think the next raid could threaten King's Creek-and Penny!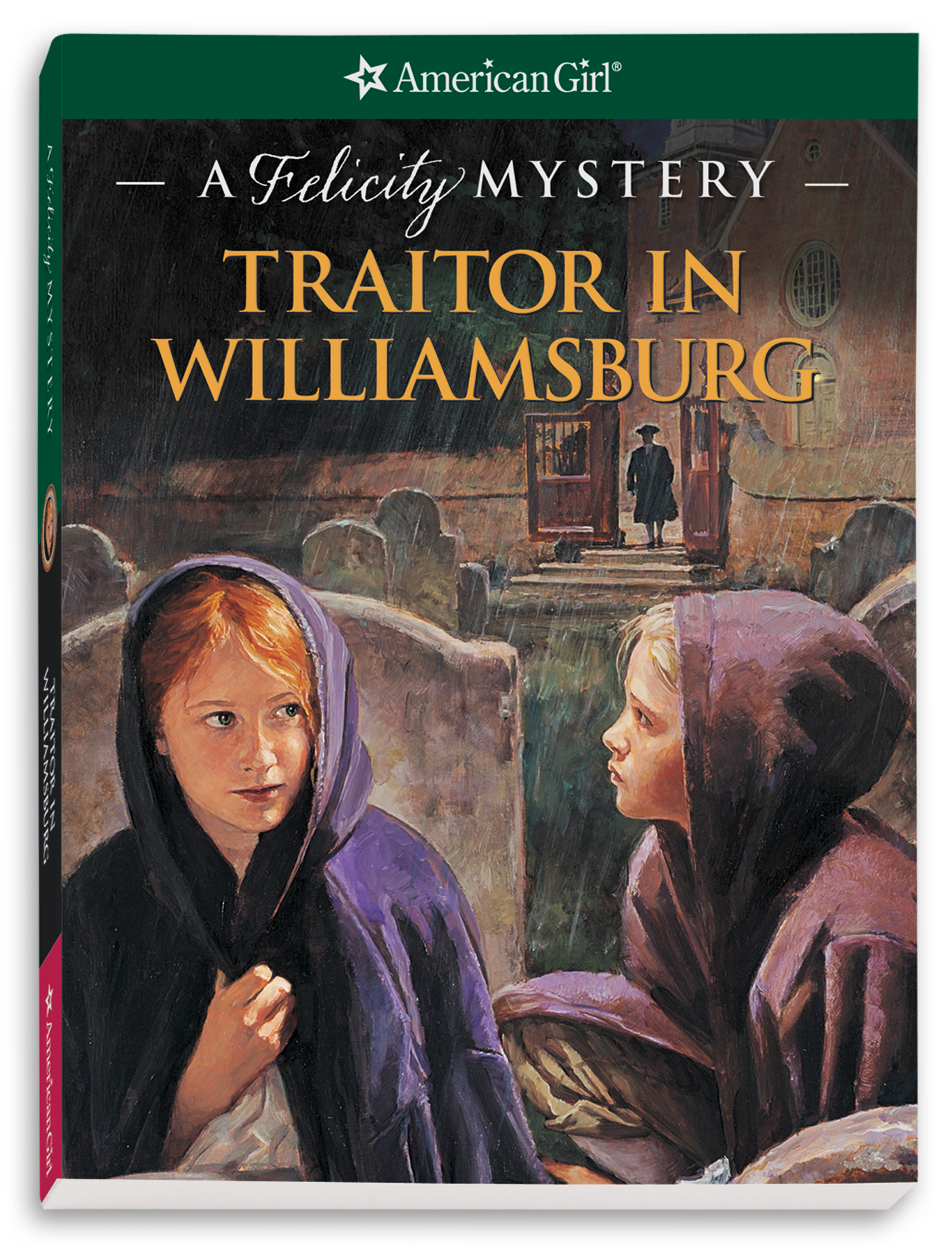 Traitor In Williamsburg: A Felicity Mystery
Felicity Merriman is alarmed when mysterious notices appear in Williamsburg, falsely accusing her friend Fiona's father of helping the British. With the Revolutionary War heating up, Felicity knows the accusations will bring danger to Fiona's family. When Felicity's own father is accused of being a traitor, too, Felicity decides she must find out who is behind the terrible accusations.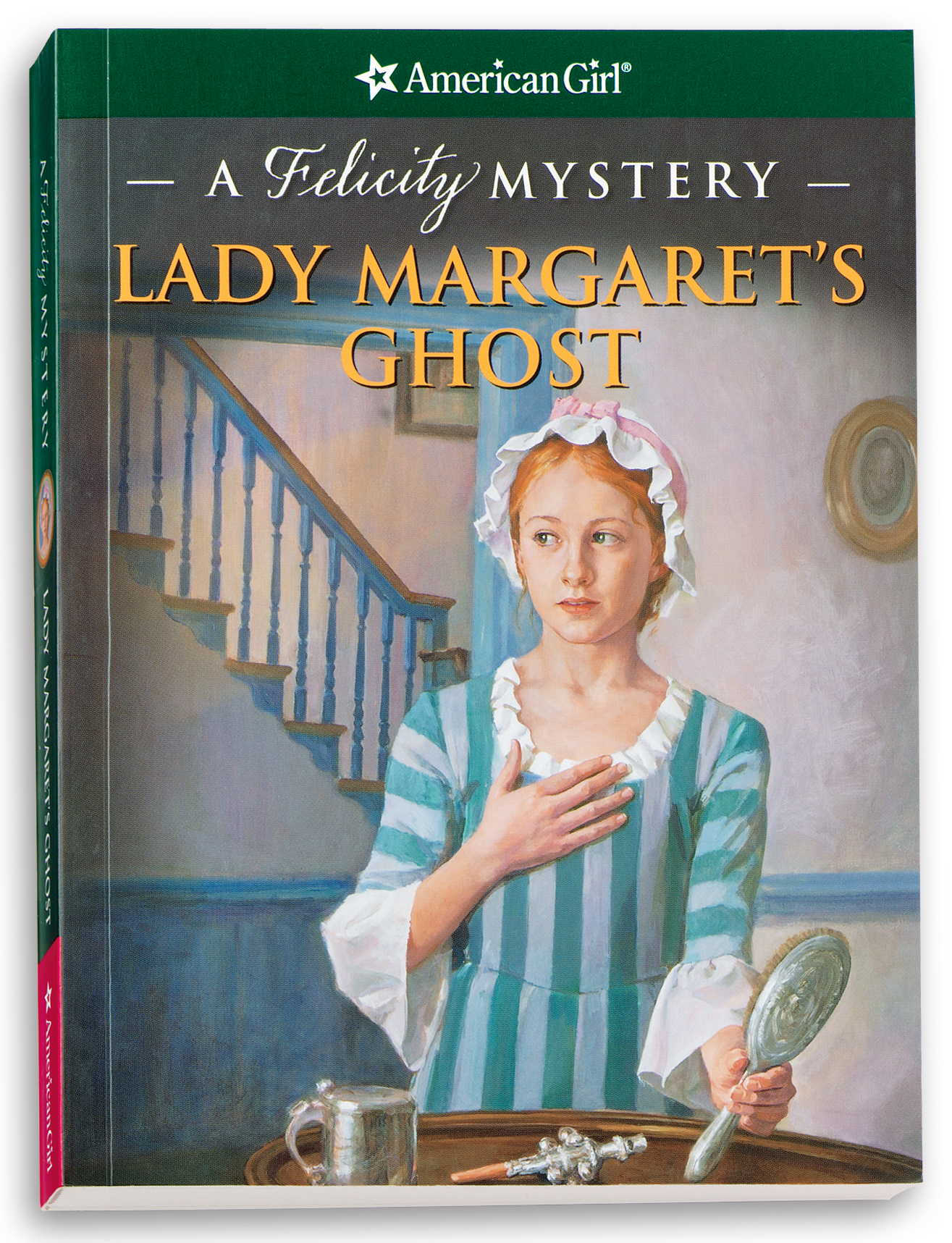 Lady Margaret's Ghost: A Felicity Mystery
Felicity has just said good-bye to her mother, who's going on a trip and leaving Felicity in charge of the house. Mother's carriage has barely left before a surprise package arrives, holding silver heirlooms that have been passed down in the Merriman family for a hundred years. Felicity doesn't believe in ghosts ... but what else can explain the odd and eerie things that begin to happen once the heirlooms arrive?
Movie: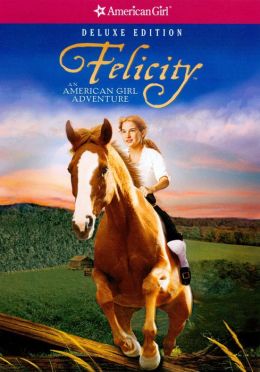 Felicity: An American Girl Adventure
Meet Felicity Merriman, a 10 year-old girl who's as spirited and independent as the American colonies she lives in. For the first time ever, Felicity comes to life on screen in Felicity: An American Girl Adventure, a full-length live action movie based on American Girl's best-selling books. When Felicity meets Penny, a beautiful copper colored mare, she knows with all her heart that she must free Penny from her cruel owner. Felicity desperately wishes for that same sureness of heart about the rumors of revolution swirling through Williamsburg. Felicity's father believes that the colonies should be free form England's rule, but her beloved grandfather and her best friend Elizabeth both support the king. With fiercely conflicting loyalties dividing the colonists, something as simple as a cup of tea could divide Felicity from her best friend forever. As Christmastide draws near, Felicity struggles to hold her family and friends close, and to find ways for love and friendship to rise above the growing conflict.