Marie-Grace Gardner & Cecile Rey 1853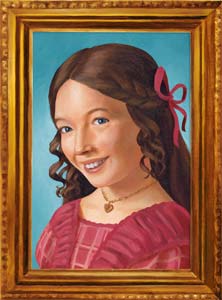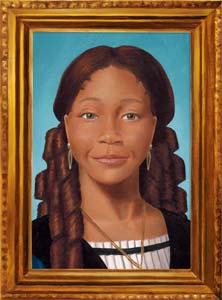 Age: 9
Gender: Female
Nationality: American
Time Era: 1853
Family:
Marie-Grace Gardner:
Father: Thaddeus Gardner
Mother: Mama Gardner
Brother: Daniel Gardner
Cecile Rey:
Father: Jean-Claude Rey
Mother: Aurélia Rey
Brother: Armand Rey
Marie-Grace Gardner & Cecile Rey are two nine-year-old girls growing up during the yellow fever epedemic.
Marie-Grace Gardner:
Marie-Grace was born in New Orleans, but left after her mother and younger brother's deaths. She was brave as a young child, as told in backstory. However, years of moving and not having a stable home has changed her. She is now quite shy. She feels out of place after many moves on the East coast, as her father couldn't find the right place for them in the Northeast. Marie-Grace can be apprehensive, and at first she found it hard to stand up for herself. Later on, encouraged by her friend Cecile, she becomes more confident in herself. Marie-Grace was described as more of a loner than Cecile in the personality quiz on American Girl.com, and considers one of her best friends to be her loyal pet, Argos. Argos usually follows Marie-Grace around everywhere. She takes music lessons with Cecile and enjoys singing. She also enjoys parades. Marie-Grace is not as good at French as she once was, but shopping for the household alone have made her excellent in mathematics. Marie-Grace is characterized as shy but caring, and is very good with babies and children. Marie-Grace often helps her father who is a doctor, and has shown herself to be very good at healing others. From Cecile's observations, Marie-Grace hides an adventurous spirit behind a shy demeanor, similar to Cecile's own spirit. She is more practical and sensible than Cecile is. Her nickname, Ti-Marie, was a pet name only her mother and Luc Rousseau used with her. "Ti" is a diminutive of "petite", thus translating to "Little Marie." Her father often calls her Grace.
Cecile Rey:
Cécile comes from a well-to-do and highly regarded family within the New Orleans community. Cécile wishes to become a stage actress, and shows a talent for storytelling, recitation, and poetry when she volunteers her time at the Holy Trinity Orphanage. Unlike Marie-Grace, Cécile is homeschooled. She finds her lessons to be boring. She especially dislikes writing. Cécile takes voice lessons with Marie-Grace, but unlike Marie-Grace, she doesn't feel she's very good at singing. Cécile is very good at keeping secrets, as she kept both Armand's and Marie-Grace's secrets. Cécile is characterized as being confident, curious, and loving the limelight. She likes to be original. Americangirlpublishing.com describes her as bold. Cécile loves to make others laugh. Cécile is popular and has many friends in contrast with Marie-Grace. Cecile is outgoing and loves parties. One of her dreams was to become a famous actress, and dance at parties every night. While Cécile can occasionally be outspoken at times, she is also shown to be sensitive and caring, such as teaching Marie-Grace French, spending time with elderly people of color at La Maison, and keeping Armand's desire to become an artist rather than a stonecutter a secret from Papa. Cécile has also shown interest in distant lands, traveling, and adventures as she loves to hear the exciting adventurous tales her Grandpa tells her and is in awe with Marie-Grace's experiences. Cécile is quite interested in clothes and her appearance, and often tries to avoid getting her clothes dirty. For this reason, she's not too fond of Marie-Grace's dog Argos, who often has muddy paws. She is always full of clever ideas and can be quite mischievous. Her nickname, Cécé, is a diminutive of her full first name.
Dolls:
The Marie-Grace Gardner doll was released in 2011, along with Cécile Rey. Marie-Grace was retired in 2014. Cecile Rey was retired in 2014 as well.
Mini Dolls:
Marie-Grace
This 6-inch mini doll brings Marie-Grace's world to life on a smaller scale. She arrives dressed in an outfit reminiscent of her era. Plus, she comes with Meet Marie-Grace, an abridged miniature version of the book that tells Marie-Grace's story of growing up in 1850s New Orleans.
Cecile Rey:
This adorable 6.5 inch mini-doll comes with a mini 3 inch abridged version of the Meet Celcile book. Mini book is enclosed in the doll box.
Books:
Meet Marie-Grace: Book 1
Marie-Grace Gardner has just arrived in New Orleans, and she hopes she never has to move again. The lively city is full of music and masquerade balls! When she meets Mademoiselle Océane, a talented opera singer, Marie-Grace longs to take lessons. She loves to sing, and she would like to get to know Cécile Rey, the confident girl who is Mademoiselle's student. But Marie-Grace is shy, and starting school reminds her how hard it is to make friends and fit in. Can an unexpected adventure help her feel as if she belongs? Includes an illustrated Looking Back essay about the history of New Orleans. The story continues in the second book in the series: Meet Cécile.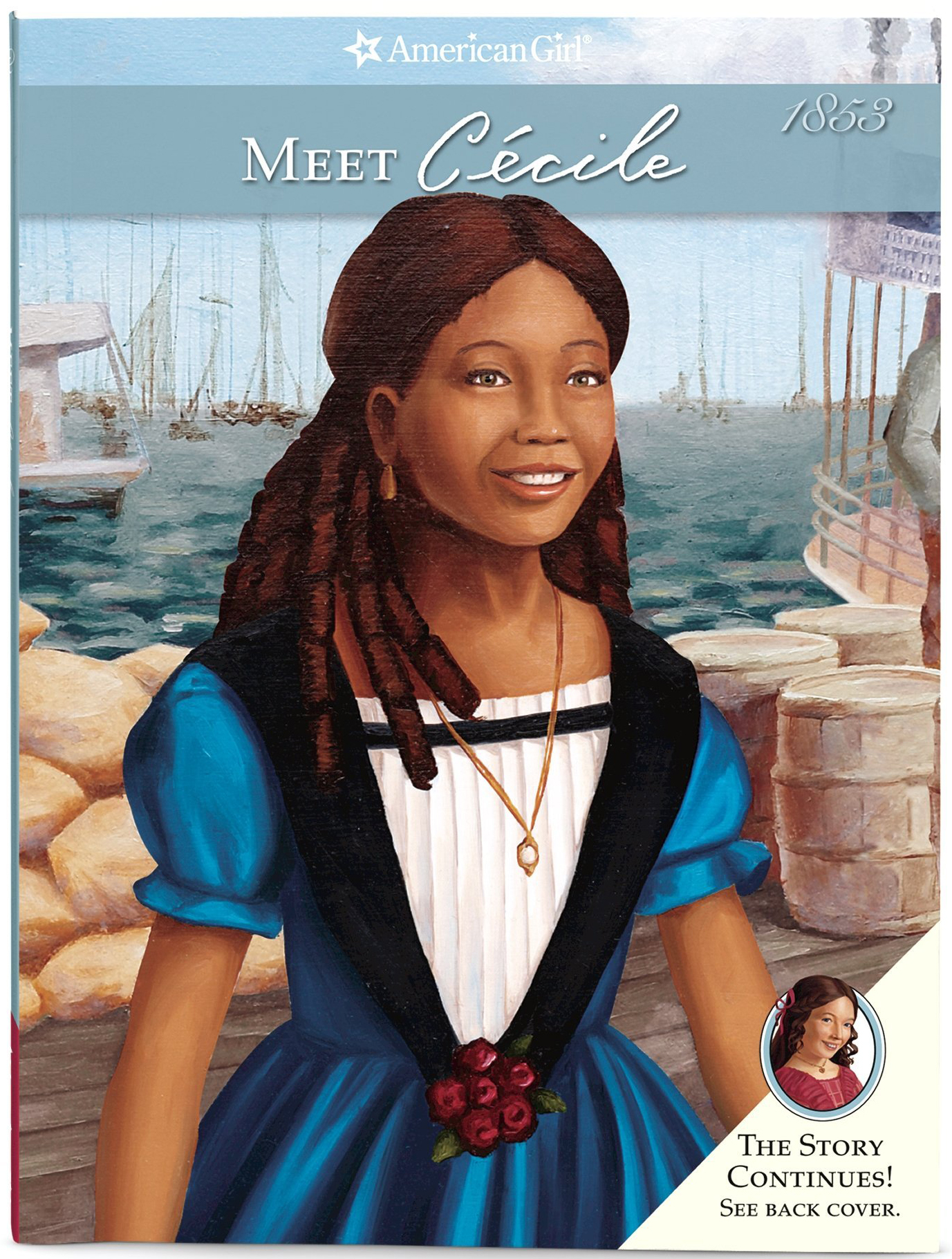 Meet Cecile: Book 2
Cécile Rey can't wait for Mardi Gras, the dazzling season of parties and costume balls in New Orleans. For the grandest event of all, the Children's Ball, Cécile is determined to come up with a fantastic costume like no other. Everyone will notice her! And after Mardi Gras, Cécile's beloved brother, Armand, will finally come home after two long years in faraway France. But Mardi Gras season turns out to be even more exciting than Cécile expects when she meets a new girl named Marie-Grace Gardner. Together they form an unlikely friendship…and share a daring adventure! Includes an illustrated Looking Back essay about the history of free people of color in New Orleans. The story continues in the third book in the series: Marie-Grace and the Orphans.
Marie-Grace & The Orphans: Book 3
Marie-Grace can't believe what she finds on her doorstep one rainy night: a sweet little baby! More than anything, Marie-Grace hopes her father will let the child stay with them. Then a stranger comes looking for the little boy, and Marie-Grace realizes the baby is in terrible danger. Together, she and her friend Cécile come up with a plan to protect the child-and to help the other orphans, too. But when rumors of a terrible sickness begin to swirl in New Orleans, Marie-Grace begins to worry…will anyone truly be safe? Includes an illustrated Looking Back essay about orphanages in the 1800s. The story continues in the fourth book in the series: Troubles for Cécile.
Troubles For Cecile: Book 4
Cécile's summer is off to a glowing start. She loves spending time with her older brother, Armand, who is finally home from France. And she and her friend Marie-Grace enjoy helping at a nearby orphanage, playing with the children. But a shadow falls over the bright summer when Cécile hears that a terrible sickness-yellow fever-is spreading in New Orleans. When yellow fever strikes in her own home, Cécile is more afraid than she has ever been before. Can she find the strength to help when her family needs her most? Includes an illustrated Looking Back essay about the yellow fever epidemic of 1853. The story continues in the fifth book in the series: Marie-Grace Makes a Difference.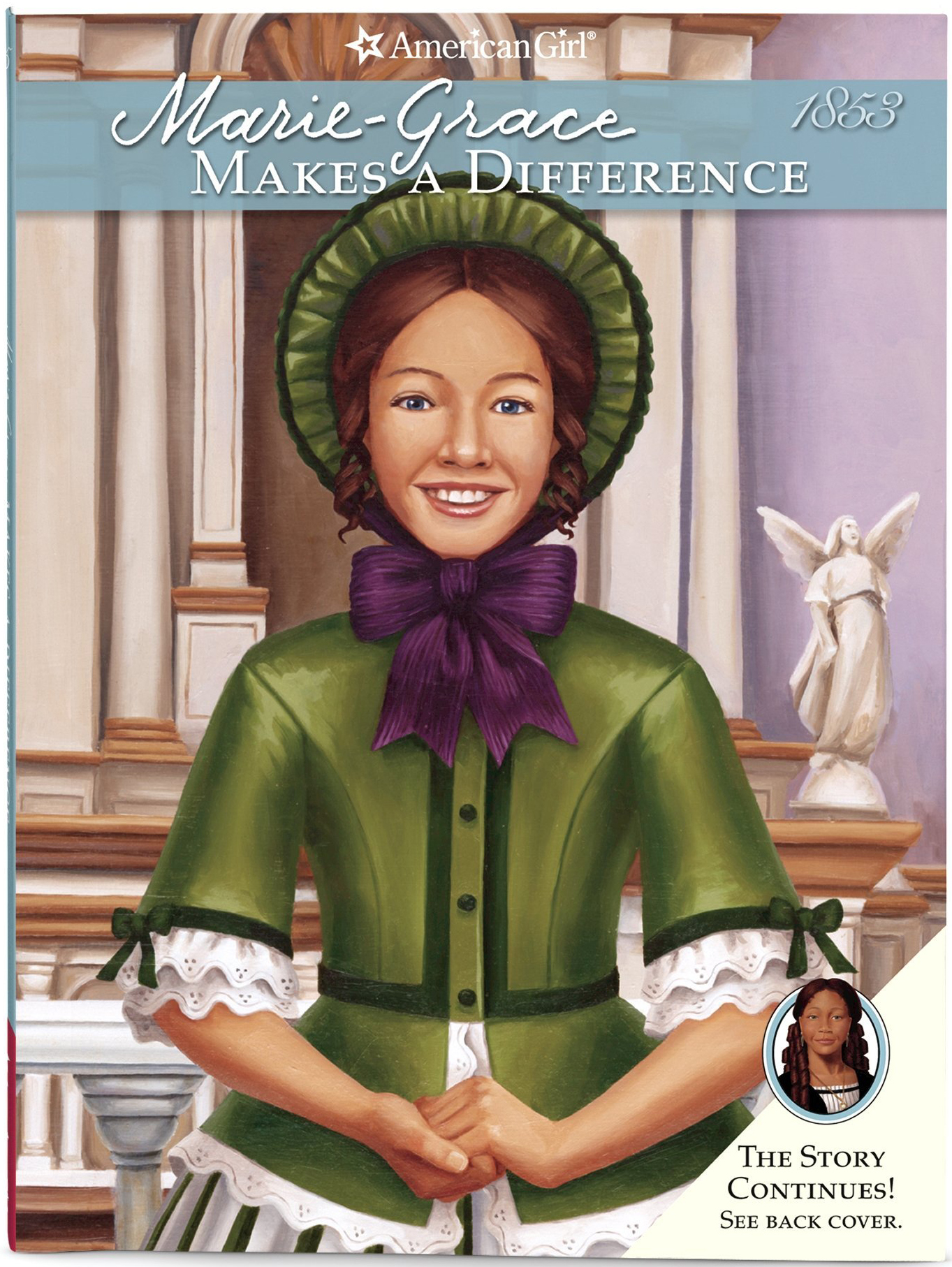 Marie-Graces Makes A Difference: Book 5
Marie-Grace is worried. Yellow fever is raging through New Orleans. The orphanage where she and Cécile have been volunteering is becoming crowded with children who have lost their parents to the dreadful disease. And now someone Marie-Grace cares about is terribly ill. When the chance comes to help, Marie-Grace takes it. She knows she can make a difference. But will this horrible fever cause Marie-Grace to lose the home and family she loves? Includes an illustrated Looking Back essay about health and medicine in the 1800s. The story continues in the sixth book in the series: Cécile's Gift.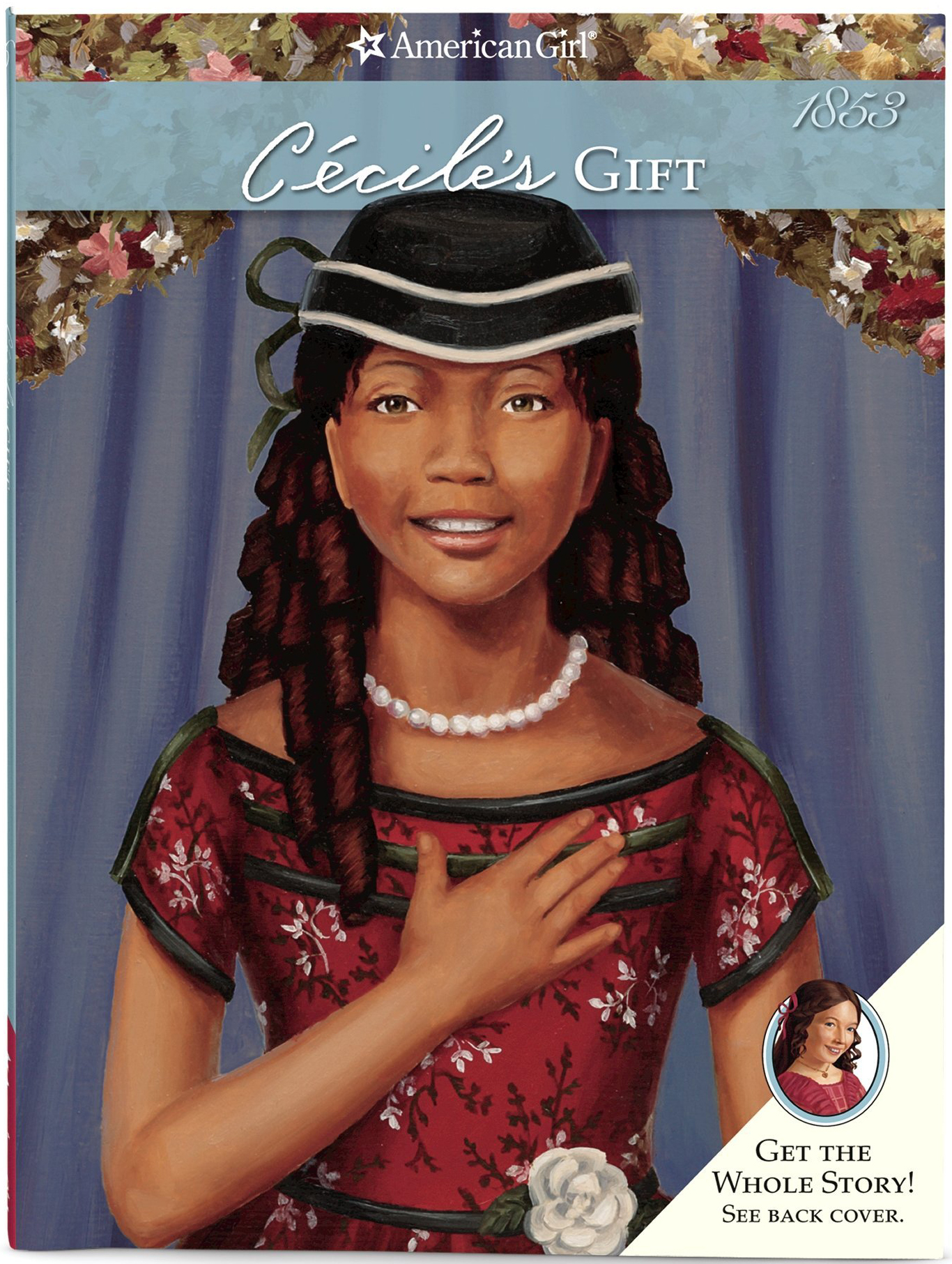 Cecile's Gift: Book 6
Cécile and her friend Marie-Grace volunteer at an orphanage every week, and Cécile becomes especially close to one little girl named Perrine. But there are so many children who have lost their families to yellow fever, and Cécile wishes she could do more to help them. When she hears that a huge benefit will be held to raise money for all the orphans in New Orleans, she is determined to take part. But what can Cécile give to the orphans to lift their sad hearts and let them know she cares? Includes an illustrated Looking Back essay about communities working together to help those in need in the 1800s. This book is the final one in a series of six historical books that weave together the stories of Cécile and Marie-Grace.
The Hidden Gold: A Marie-Grace Mystery
Marie-Grace can't wait to begin her journey up the Mississippi River with her father. The steamboat they're traveling on is the biggest and fanciest boat Marie-Grace has ever seen. It's crowded with all sorts of interesting passengers, including Wilhelmina Newman, a girl Marie-Grace's age. Wilhelmina is traveling alone, and she's carrying a secret in one of her trunks--clues to hidden Gold Rush treasure. Wilhelmina and Marie-Grace have to unravel the clues to find the gold--and they're not the only ones looking for it! An illustrated "Looking Back" essay describes steamboat travel in the 1850s.
The Cameo Necklace: A Cecile Mystery
As Cécile exits a crowded showboat after enjoying a lavish Floating Circus, she stumbles--and when she gets up, she realizes that the cameo necklace she borrowed from her aunt is no longer on her neck. Knowing that the necklace was the last gift Tante Tay's husband gave her before he died, Cécile is desperate to find it. As she tracks down the people in the crowd who were near her when she fell, her search takes her into many corners of New Orleans, from a society tea party to the crowded French Market, even the dangerous cypress swamps...and deep into secrets she never imagined! An illustrated "Looking Back" essay discusses the challenges that people of color faced in the 1850s.
The Haunted Opera: A Marie-Grace Mystery
Marie-Grace is excited that a well-known English opera company will perform in New Orleans--at the same theater where she takes singing lessons from Aunt Océane. Even better, her aunt has gotten a role in the opera! As Marie-Grace and her friend, Cécile, help out during rehearsals, they're thrilled to meet real opera stars and get a peek into theater life. But thrills turn to chills as the girls make disturbing discoveries behind the scenes!